WE BUILD YOUR PROFITABLE ECOMMERCE BUSINESS
For employees, prospective online entrepreneurs or the self-employed who want to start their own successful online business.
✔️ No own product necessary
✔️ Only a few hours a week
✔️ Suitable for beginners & advanced
✔️ 24/7 customer support
PROVEN SYSTEMS
Thanks to our proven system, you can put your online store on autopilot and build a business without much effort that will be successful.

Since your online store sells products 24/7, you will no longer be bound by time. You benefit from geographical freedom and can work from anywhere in the world.
FREE CONSULTING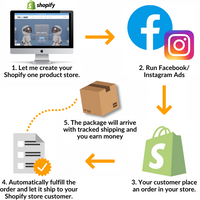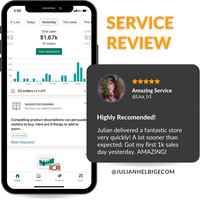 High-turnover products
You sell popular bestseller products from a professional supplier without having to produce or buy the goods in advance.
Automated processes
The ordering process and the dispatch of the goods have been automated and submitted so that you can enjoy your new free time.
Long-term success
You know how to manage your online shop safely, independently and effectively increase your sales month after month.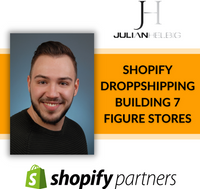 MY MENTORING PROGRAM
- Shopify Store Creation
- Video creation with individual content
- Facebook Marketing Set-Up appointment
- AnyDesk appointment to set up paid apps
- Influencer Marketing
- Customer service
- Facebook/Instagram Ads Management
- Social Media content creation
- Individual Review service
- Monthly Video call report
- 24/7 Support Chat

Book your video consulting session now to get more details!
FREE CONSULTING
GROW 10X FASTER, BETTTER, SMARTER.
Skip the guesswork, trial-and-error and never-ending shit show of trying to figure everything out yourself - for the very first time. and instead, grow your business with proven customer-getting-funnels, frameworks and scientific customer acquisition (not hopes and prayers).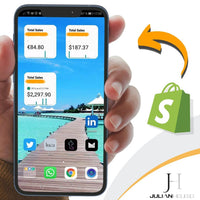 What my client's say
I'm a complete newbie about ecommerce and Shopify Dropshipping. I came across Mr. Julian Helbig's ad about his internet marketing services in one of my fb groups and decided to purchase both premium packages of his one product Dropshipping store creation and FB marketing services. Everything was delivered on time and in a very professional way. Mr. Julian has also been very patient with me (with my never-ending and almost annoying noob questions). Two days ago (Jan. 19, 2021), I created my first business manager account in FB and then he started creating my FB ads/campaign. Two days after which is TODAY (Jan. 21, 2021), I received my first 2 orders in my shopify store! And that, ladies and gentlemen, is one great proof that this guy is legit! If you want results then look no further! Mr Julian Helbig is the ONE! I know I still have a lot of things to learn and have a long long way to go. But I also know that with Mr. Julian's guidance, my ecommerce journey will be a lot easier and brighter! Thanks a lot, Mr. Julian Helbig!

Peter At Petra
The truth is, I have never had experience with dropshipping and neither with Shopify... I discovered Julian on Facebook, before choosing him there were several that also offered Dropshipping stores but I opted for Julian. The truth is that he was the best choice, especially because I am a first time in this, and although I do not stop asking him about a thousand things he always answers me and helps me with all my doubts. I love that it is a more direct and personal relationship, there are probably others but I doubt that they work like that. In my case he set up a shop for me and he explained all the details to me, also he always cross-examined to see if you understood correctly. Now I'm with Facebook marketing, and I think that everyone who is going to start in this, should take it, at least if you are a newbie, there is too much information out there and in the end it is almost impossible to clarify, if you don't have someone there above that he has gone through the same thing. This week I got my first sales and I think I wouldn't have gotten them without Julian. If you are looking for a longtherm Dropshipping project and everything associated with it and you are also looking for someone who is close and attentive, choose Julian.

Sami Moussa
My store was done and delivered way sooner than expected. I'm super new to Shopify Dropshipping, I didnt know and was very unsure of many things, but Julian has been very helpful and down to earth guy who always listen to you and make sure to answer all your doubts and questions. If youre looking to start Dropshipping and not sure who should you hire to create your very first store, Julian Helbig is definitely your guy! Super highly recommended!! Many thanks again Julian!

Mohamed Azhar
Great service!! Julian done my store and without a doubt DELIVERED !!! 100% reccomend his services as it was quick aswell as the advice very responsive!! Cant be more happier. Much love and respect from Australia Yewww!!

Kasiano Harris
Julian delivered a fantastic store very quickly! A lot sooner than expected, and it exceeded my expectations. I had many questions which were answered in a timely manner and Julian has been such a pleasure to work with. Highly recommend his services, and am very excited to work with him in the near future. Thanks so much Julian.

Chance Wilson
I'm just starting it and so far based on my experience with Julian, it's one of the best people you can interact with and he is very supportive and a man of his word in terms of commitment. 😊👍 Once the store goes live and starts generating a sales, I'll place a new order with him 😎👍

Mohammed Al-Abduwani
I received the store in the fastest and most professional way, must say I did not think it would be ready in such a short time and I was pleasantly surprised! So Julian thank you again you are the best ! 🙂

Michael Goldin
Julian has done an amazing job with my one product store. It is attracting more customers than I am used to seeing in a short period of time. I have had a total of 13 purchases since I started advertising my one product store. Things really started to take off after Julian helped me to structure my Facebook ad campaign, ad copy, and Facebook business page properly and professionally.

Robert Bafaro
Thank you Julian for reviewing my FB ads, creating new interest ad sets and set up a profitable retargeting campaign. Looking forward to a higher conversion rate in the next few days. Many thanks for your professional service again Julian. I appreciate it.

Ey Gan